Photos courtesy Porsche
Sports car enthusiasts may rejoice, because the manual transmission lives on in the revised 991-2-generation Porsche 911 GT3. Drivers may once again opt for three pedals and a six-speed gearbox to make forward motion from a powerful naturally aspirated flat six, Porsche announced this morning at the Geneva International Motor Show. Or, they can go with the standard seven-speed PDK automatic.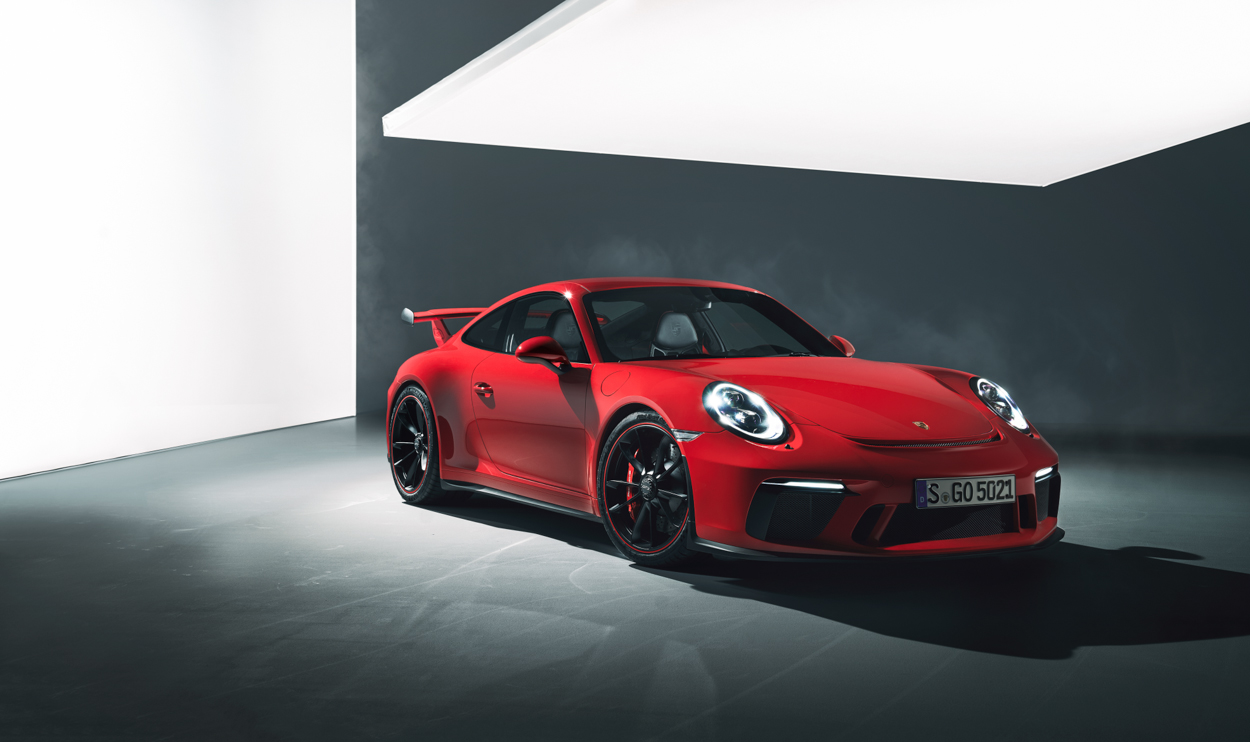 2018 911 GT3
Not long ago, it would have been hard to imagine a manual gearbox overshadowing the introduction of a state-of-the-art Porsche flat six. The GT3's new mill is a glorious 4.0 liters, pumping out 500 horsepower and 339 pound-feet of torque. Its origin is in motorsport, based on the engines used in the GT3 R and the GT3 RSR race cars. But such is the automotive climate these days — finding new sports cars with manual transmissions is only getting tougher.
We're encouraged that Porsche saw the writing on the wall when the manual 911R and Cayman GT4 were virtually sold out before hitting the market. The automaker realized its most devoted and enthusiastic customers still want the option to row their own gears.

Interior of 911 GT3
Of course, the reason the last GT3 was only offered with an automatic is clear when comparing performance numbers. With PDK — which adds 37 pounds to the manual car's 3,116-pound curb weight — 0-60 mile per hour can be dispatched in 3.2 seconds, Porsche states. With the manual, 3.8 seconds, more than half a second behind. If ultimate acceleration matters to you most, go with the PDK. The difference in top speed between the two is a negligible 1 mph, with the nod going to the 198-mph manual car.
A locking rear differential and dynamic engine mounts help with traction in and out of corners, while rear axle steering improves low-speed agility and high-speed stability.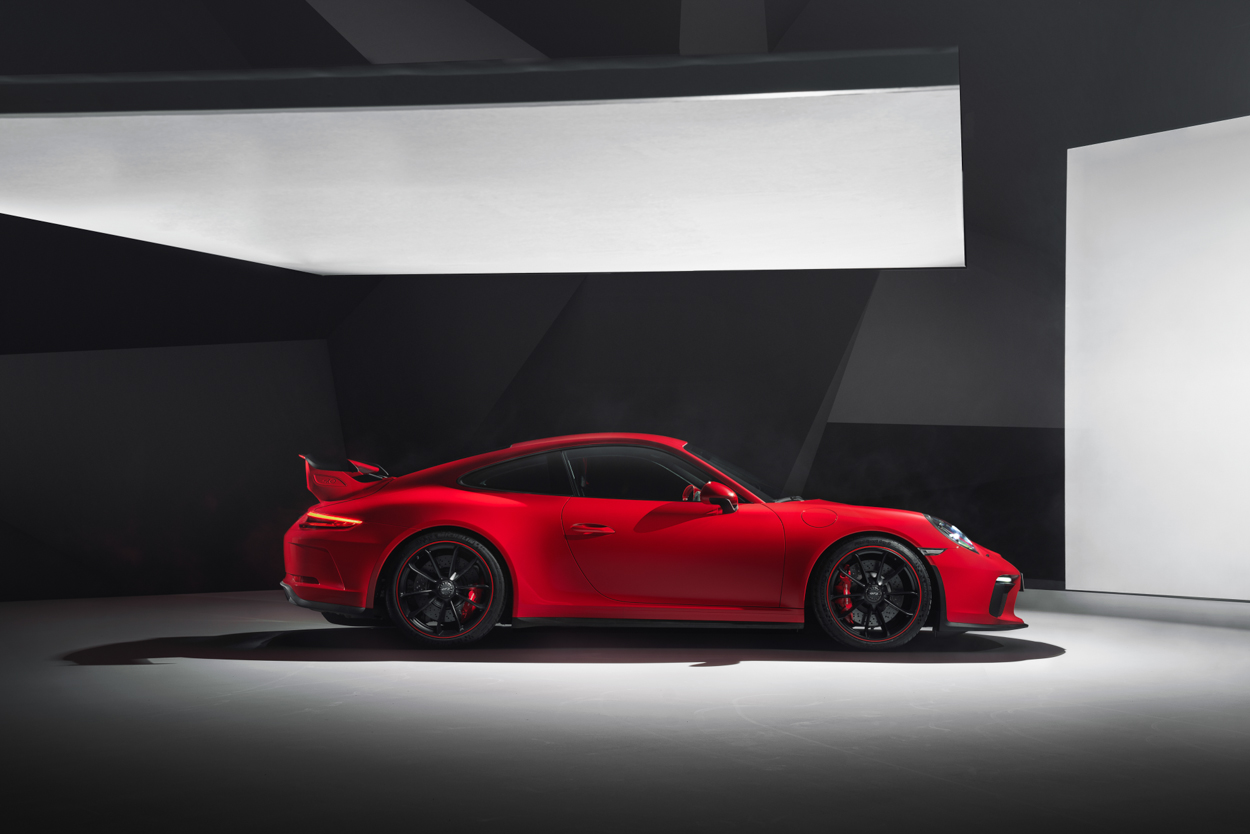 911 GT3
Only astute observers will immediately notice visual differences between the 991-1 and 991-2 cars. The front fascia has been redesigned, notably the center columns between the intakes, which are angled inward from the bottom up. At the rear there's a new diffuser and 991-2-style taillights introduced on the 2017 Carreras. The carbon-fiber rear spoiler looks similar to the previous GT3's but with black end plates.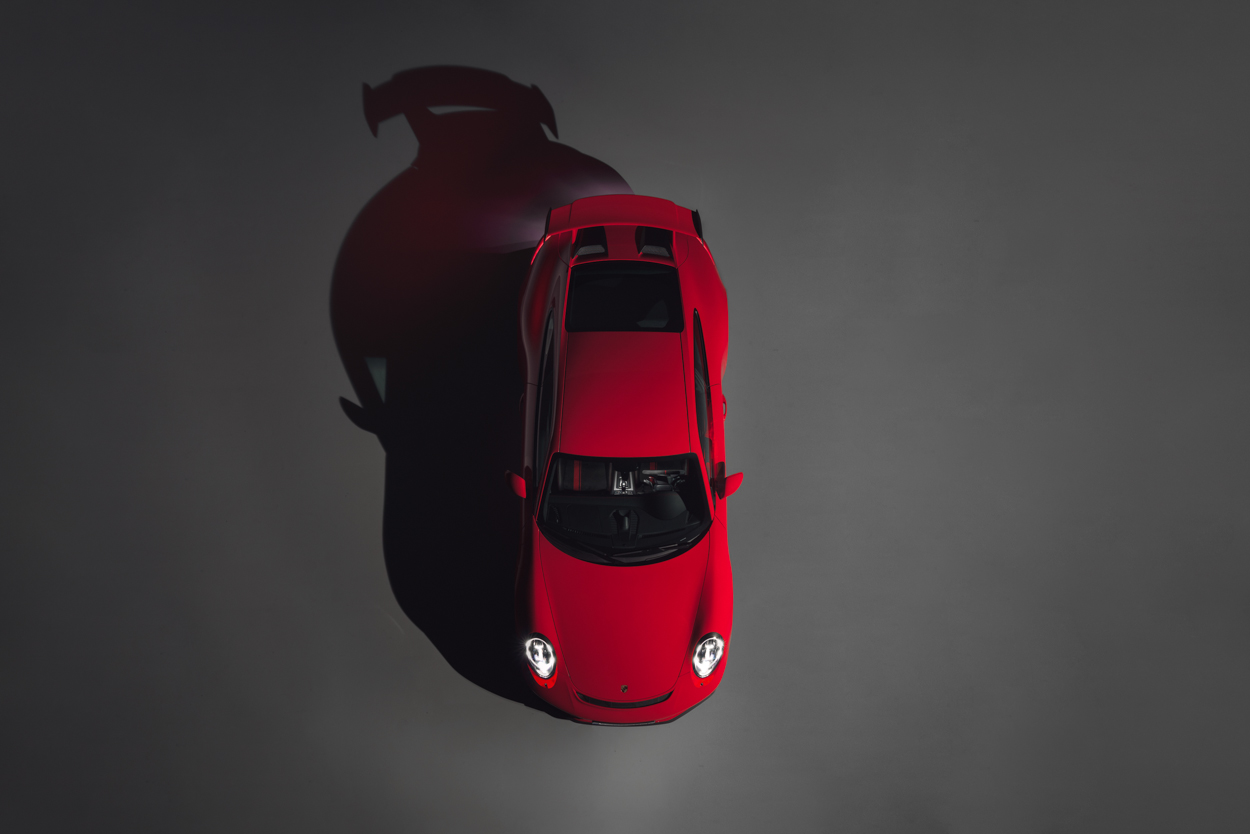 911 GT3
Inside, drivers are treated to 14.1-inch steering wheel from the 918 Spyder and three seating options. Sport Seats Plus, as Porsche calls them, are standard and have "enhanced" bolsters and electric seat back and height adjustment. Step up to Adaptive Sports Seats Plus offer 18-way adjustment along with steering column and seat memory. Carbon-fiber race-style buckets with electric seat height adjustment are available for those who plan on driving on track. As usual for the GT3, rear seats have been deleted to save weight.
Porsche says to expect the GT3 to hit showrooms in fall 2017 with prices starting at $143,600 (excluding $1,050 destination fee).
https://www.pca.org/news/2017-03-07/new-porsche-911-gt3-will-have-optional-manual-transmission-and-500-hp-flat-six